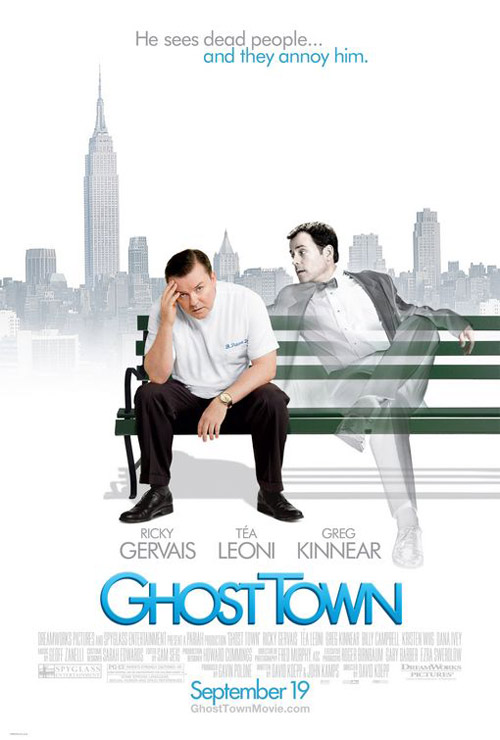 So what is this one about?
Welp, my delightfully under-used friend Netlfix tells us,
British funnyman Ricky Gervais ("The Office," "Extras") stars in his first feature film lead as Bertram Pincus, a hapless gent who's pronounced dead, only to be brought back to life with an unexpected gift: a newfound ability to see ghosts. When Bertram crosses paths with the recently departed Frank Herlihy (Greg Kinnear), he gets pulled into Frank's desperate bid to break up his widowed wife's (Téa Leoni) pending marriage to another man.
ok.


And how much did I pay to watch?
Nothing.
One thing you might not know about me is I have recently (well, maybe not too recently, since the Olympics) started going 10 miles a day on Saturday and Sundays on the treadmill in my basement. For the most part this works well because I have recorded shows from the previous week that I can watch. At most, three episodes of Law and Order (and it's friends) and one episode of Gossip Girl. This seems to fit the time well.
Unfortunately, the weekend I watched this I had nothing left to watch, so I used my HBO on demand and settled on this one. And since I don't pay for cable it really was nothing.
And what did I think?
Well, I am a big Ricky Gervais fan. I like his insane laugh. And his British accent. And his fat little face. He doesn't seem to have a lot of range to me, because I've never seen a role where he wasn't just playing Ricky Gervais. Luckily, though, I like him. So, it works well.
As Bertram he was really playing himself. Grumpy old Ricky. There is something about him, though, that is so sincere, so his character arc was nice. He had a very nice chemistry with each other character in the movie, and you really wanted things to work out well for him.
Interestingly enough, since it is a stupid idiotic romantic comedy, things had to fail then could be built back up. Romantic comedies are so flipping dumb. In life, when you like a boy (or a boy likes a girl) and you do something stupid to fuck it up, you often don't get a second chance. Romantic comedies give stupid people too much ammunition for them to think that everything will work out for them too. Romantic comedies are the devil. (except
Love Actually
, and does
Clueless
count?) I sound way more bitter than I am.
So what is the rating? (out of 10)
It was funny enough, but mostly, anything with Ricky Gervais will likely be enjoyable for me.
I give it a 6.